The Farmax DRP spading machine (New Design) has a new adapted drive line. It's featured with a driven rotor that's powered from one single-side of the machine. This advantage creates the possibility for an additional driven roller behind the spader.
The driven roller is also equipped with a special designed torgue limiter, that's intended as overload protection for this additional roller.The turning point of the roller is also adapted, it's now in the center of the rotor so the spader operates with improved stability.
The new DRP Perfect is available in the working widths of: 2.50 2.70 and 3.00 meter.
The pivot point of the roller has also been adjusted. It is now placed in the hearth of the rotor, so there is no displacement of the center of gravity. This improves the stability of the spader tremendously. The new DRP Perfect spaders are now available in working widths of 2.50, 2.70 and 3 meters.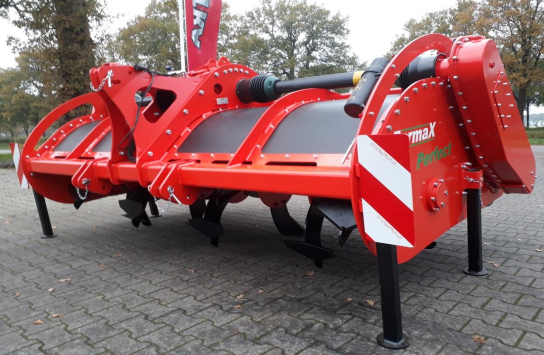 Please contact us:
Tel: 0031(0)593-524066
E-mail: This email address is being protected from spambots. You need JavaScript enabled to view it.