The Farmax ERP is a spader for light tractors. The great manoeuvrability and low integral weight of the ERP make it highly suitable for use in greenhouse horticulture, flower cultivation and tilling small plots.
Apart from giving perfect rotavation, the popularity of the Farmax ERP is mainly attributable to its ease of operation and sturdy design.
Uninterrupted rotavation
The ERP is fitted as standard with skimmers to prevent the tilled soil from clogging the machine. The machine can be combined with a rotary harrow.
Advantages
Low power requirement, so suitable for small tractors
Highly manoeuvrable, even in small spaces
Easy to operate
Sturdy, low-maintenance design
Improved yield thanks to improved soil structure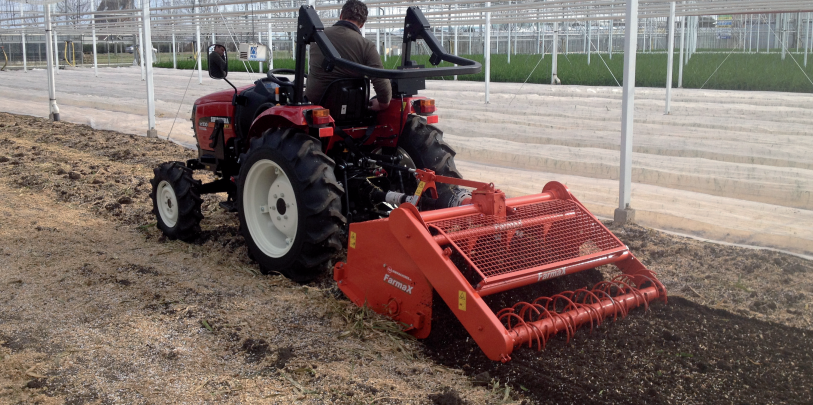 Please contact us:
Tel: 0031(0)593-524066
E-mail: This email address is being protected from spambots. You need JavaScript enabled to view it.


THE ERP SPIT MACHINE, IDEAL FOR GREENHOUSES
Greenhouse horticulture covers around 1,228,000 acres of land in the United Kingdom. In order to be able to work the soil in order to provide the crops with the best possible soil, it is recommended to use a spading machine or tiller. The Farmax ERP spading machine is the ideal solution for this type of crop cultivation. Because the machine itself is not very heavy, it can be driven by lighter tractors. These tractors are much more suitable for maneuvering in the limited space of a greenhouse.